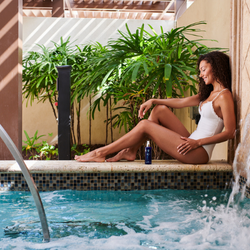 How to create your own VIP treatment event
UNVEILING THE INCREMENTAL REVENUE AND PATIENT SPRING GLOW...
With the awakening of the sunshine and warmer weather, it gets us all thinking about holidays, events and social occasions where everyone can connect and create memories with friends and loved ones. 
With clinics and spas launching events its providing communities with occasions whereby you can invite new and existing clients to connect, learn through education and experience new treatments, technologies, and products.

An event that is always a firm favourite to hold is the iS Clinical RedCarpet Event. Holding this style of event will allow you to invite clients that are new to iS Clinical and haven't experienced the transformative results of the globally renowned products. 
The incremental revenue opportunities that are present with events are a great bolster to any business:
• 12 new clients to your clinic and or brand
• 12 iS Clinical Express Fire & Ice Treatment (£60 Per Ticket)
• Put a 'Gift with Purchase' in place to increase your average units sold
• Incremental revenue of £3,500 in 3 hours of event time
* Excluding Professional Revenue from advance treatment plans and or Courses
* Have an exclusive promotion on courses and or treatment plans,
EG Book a course of 3 Fire and Ice Facials and receive the 4th one free!

TOP TIPS FOR PLANNING YOUR EVENT
---
• Decide your event objectives and targets. What do you want to achieve? How many new clients? Do you want to set a target for treatment plans or how much retail income do you want to generate?
• Share your targets with your team. Together you are united to achieve and succeed on your goals.
• Prepare with an event project plan. Keep on track of your event organisation, set strict timelines for preparation and execution of communications across social, local and in-clinic channels.
• Schedule refresher/advanced training. Organise your team refresher training just before your event so your team are inspired and energised about the event topic and the hero solutions available to your clients.
• Take photos. Take the opportunity to capture your team, clients, and the positive atmosphere at your event. Your event photos will provide great content for your social media and marketing - not just on the day, but in weeks and months to come.
• Talk to your clients. Don't be afraid to ask, listen and ask them what they would like to learn and experience from you. This will help you theme your next event. 
---
Speak to your Harpar Grace Business Growth Specialist today to organise your next in clinic or spa event today