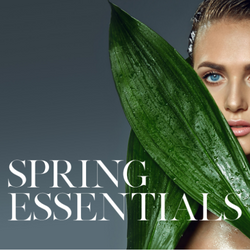 Seasonal Saviours - Spring Essentials
TOTALLY DERMA ®

 
A unique pharma-grade, nutraceutical supplement with fascinating clinical studies behind it. Containing powerful antioxidants; Grape Seed Extract, Green Tea Extract, Vitamin C, Alpha Lipoic Acid, Zinc, Manganese & Copper, it is built to boost the body's optimum production of collagen, elastin & hyaluronic acid. It also improves the condition of hair, nails and joints. Pop it in your morning smoothie or yoghurt for a little extra sweetness! 
---
PERFECTINT POWDER SPF 40 -
The perfect companion for your everyday protection and on-the-go touch up this summer! Enjoy the sunshine with a luxurious, silky smooth SPF that offers superior protection whilst minimising the appearance of pores and absorbing surface oil to create a flawless matte finish.
---
GenexC Serum -
Protect, hydrate and enhance your skin with this age-defying, superior antioxidant formulation. Perfect for those with much outdoor exposure in these sunny spring months, the GenexC Serum can be used daily to improve the appearance of fine lines and wrinkles and even the complexion, resulting in a more youthful, glowing appearance.
---
Youthful Hydration Collection -
Reveal your most soft and supple skin with our most powerful moisturisers for the face and body. Hydration is key in order to prevent peeling in the height of summer, so prepare your skin now with the purest form of hyaluronic acid, botanical antioxidants, potent peptides, and Extremozyme® technology. This dynamic trio will leave skin glowing, nourished, and hydrated from head to toe.
---
Super Serum Advance+ -
Tighten, brighten and lighten the skin this spring! This advanced vitamin C formulation can be used each morning to reduce the appearance of scars and fine stretch marks, lighten and correct hyper-pigmentation, and reduce the appearance of fine lines and wrinkles.
---
Déesse

Pro -

The Déesse Pro harnesses the power of four different wavelengths and six different treatment modes. The Déesse Pro promises to diminish dark spots and lessen scars. Your skin will become stronger, firmer, smoother, and brighter as a result.
---
Cleansing Complex -
Formulated with a balance of bio-nutrients, antioxidants, and mild resurfacing ingredients that thoroughly cleanse and dissolve sebum without stripping essential natural oils. The innovative iS Clinical Cleansing Complex formula is a skincare regime must-have suitable for everyday use in the upcoming warmer months!
---
Copper Firming Mist -
Full of beautiful skin-loving, hydrating and soothing ingredients, this botanical pharma-grade mist is the perfect way to set your make-up and keep your skin hydrated throughout the day! The copper formulation will enhance that natural glow and is perfect for no make-up days. We absolutely love it, especially after the gym or a workout. It leaves skin feeling firmer, softer, and brighter right away. 
---
YOUTH LIP ELIXIR -
This luxurious treatment combines nourishing Cocoa Butter, antioxidants and Hyaluronic Acid to improve the overall texture and appearance of the lips, while Extremozymes provide unprecedented multi-level protection against environmental stressors. Specialist plant extracts tackle fine lines, poor collagen production and depleted barrier function, to make lips appear more defined, fuller and more even in colour. Ideal as a daily conditioning treat, this elixir also creates a smooth base for lipstick
---